In 2019, the Idaho Lottery learned 28 percent of Idaho elementary schools had a library budget of less than $100 per year for book procurement. In reality, it would take nearly $8,000 every year per school to maintain the library collection students need to succeed. With that in mind, the Idaho Lottery worked with the Idaho Commission for Libraries to start Bucks For Books. Through the generous support from our VIP Club members and the book drives at Barnes and Noble in Boise, the Idaho Lotteryhas given back more than $84,000.
Last winter, the Idaho Lottery traveled around the state delivering boxes of books and giant checks for awards of between $1,000 - $3,000. While the 2019-2020 school year was ultimately cut short due to COVID-19, schools still saw significant changes in library circulation following their Bucks For Books grant. During the previous school year, the schools receiving Bucks For Books grants had a combined monthly circulation of 10,091 books. During the 2019-2020 school year, those same schools saw that number increased to 11,267 per month. The most significant change came in the number of books kindergarteners and first-graders were able to check out. Combined, they checked out 6,158 more books in 2019-2020 than in 2018-2019.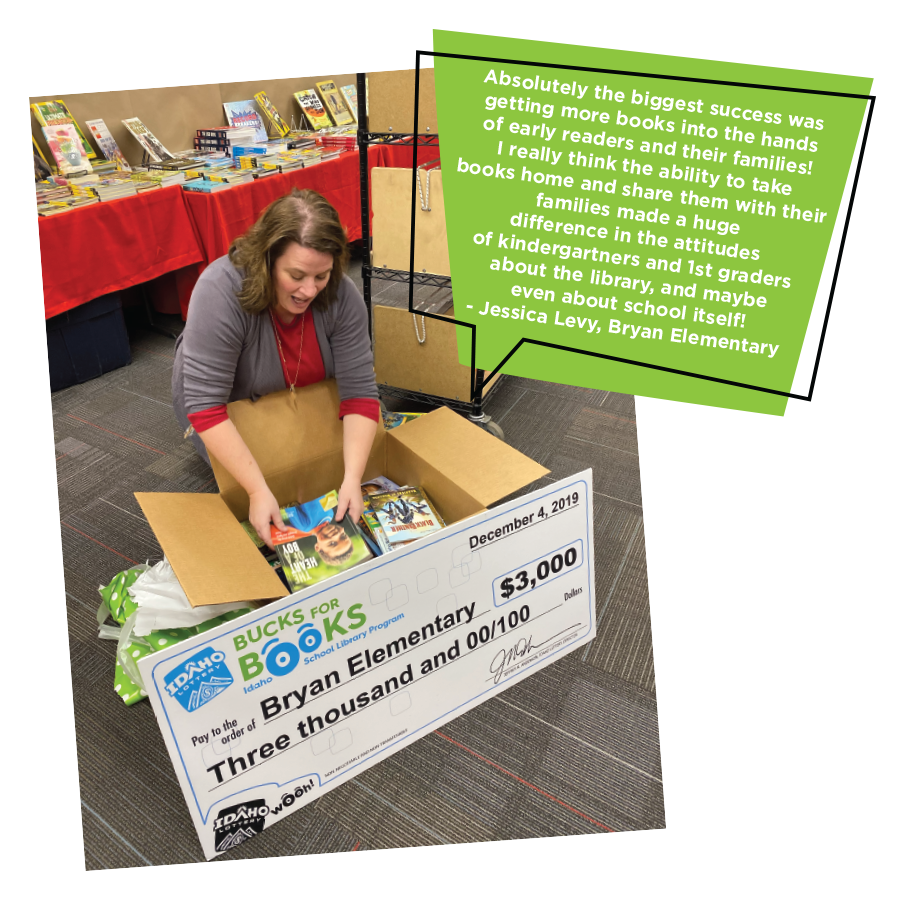 "Absolutely the biggest success was getting more books into the hands of early readers and their families!" said Bryan Elementary Librarian Jessica Levy. "I really think the ability to take books home and share them with their families made a huge difference in the attitudes of kindergartners and 1st graders about the library, and maybe even about school itself! So many of them were so excited each week to get to choose their new books. I think the parents of these young students were also more excited and engaged in their student's library experience due to the books being able to come home and be shared."
Literacy has been a focus of Idaho Governor Brad Little since he took office in 2019. Getting all Idaho students reading at grade level by the third grade is imperative as that is the point where students transition from learning-to-read to reading-to-learn. Having a well-stocked library and the ability for all students to take books home is crucial in getting all Idaho students where they need to be.
"Students added their input on what books they were interested in reading, and I was able to get many of these titles or find books about the subjects that were engaging and informative for them," said Naples Elementary School Librarian Amber Balk. "Teachers said that after seeing the books purchased from the grant, they were excited to be able to send their students to the library for real research projects. In the past, teachers had to have large classroom libraries to supplement where the library was lacking. Now, the library has become a central piece of the school and that means reading will reach the heart of students. That is a true success in my book."
To get involved, Idaho Lottery VIP Members can visit VIP.IdahoLottery.com/RewardZone starting September 1 to participate in the program. Our goal is to reach 10,000 books for Idaho Schools. Physical book donations can be mailed to or dropped off at to the Idaho Lottery offices at:
1199 Shoreline Lane, Suite 100
Boise, Idaho 83702
Starting September 4 and running through September 10, a Barnes and Noble Book Fair benefitting the program will be held at the Barnes and Noble in Boise. Mention the Bucks For Books program at check-out and a percentage of that transaction will also go to this year's Bucks For Books recipients. You will also be able to donate physical books at check-out. If you are shopping online, use the code 12612594 at checkout between September 4-10.
Librarians and school administrators can go to https://libraries.idaho.gov/school-libraries/bucks-for-books/ to apply for this year's Bucks For Books awards. Applications are open until October 15. Recipients will be announced in November.