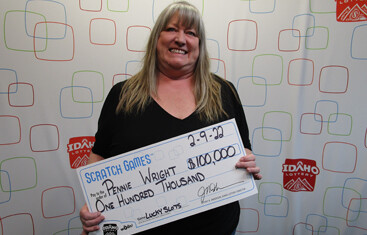 Sometimes a lady just has to do what she has to do, and sometimes that means treating yourself. And sometimes those best intentions go awry. On the eve of starting long-term, in-home care for a relative, Pennie Wright wanted to enjoy an evening to herself, in her own fashionable style.

"I decided I was going to get something from the liquor store and relax on my couch because I won't be able to for a long time," laughed Pennie on explaining her plans. "When I was at the Liquor Store, I thought I should play a Lottery ticket, too. So, I picked one out because I liked the bright, neon colors."
Pennie picked out a $10 Lucky Slots Super Ticket. She soon discovered she had a winning ticket on her hands.
"I saw the one and zero and thought, cool, I'd won ten bucks. Then I saw another zero and thought I'd won $100. Then another zero and it was $1,000. And then I saw some more zeroes and decided that maybe I should pull over," described Pennie on her winning experience.
"I woke up this morning and thought, well, that was a nice dream," she said when she claimed her $100,000 prize at Lottery Offices. "And I never even opened the bottle I got at the Liquor store. I couldn't. I was too nervous!"
Pennie bought her winning ticket from the Idaho Liquor Store on Lake Hazel at Five Mile in Boise. For selling the winning ticket, the Liquor Division receives a bonus of $10,000.
Pennie plans to improve her house with some up-to-date remodeling. This win means she doesn't have to go into debt to do so. That's treating herself "Wright".