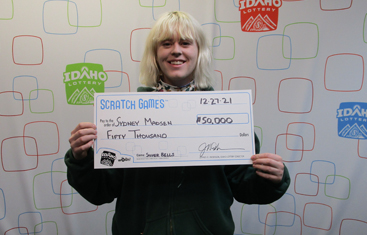 It is a long, well-established fact that Idaho Lottery Scratch tickets make great stocking stuffers during the holidays. We say so every year. The truth behind this comes from stories like the one from Sydney Madsen who won $50,000 this year, on Christmas morning, from the Silver Bells scratch game that was a stocking stuffer.
Sydney was visiting her family for the holidays near Idaho Falls. By tradition, her mother buys scratch tickets and gives them out as stocking stuffers to Sydney and her siblings. As Sydney told us, she and her siblings toss bean bags into a bucket to see who can select the stocking stuffer scratch tickets first. Well, Sydney missed on her first attempt and had to wait a turn. She connected on her second try and selected the Silver Bells scratch ticket.
"I didn't really believe it at first. No one really did. But there it was, $50,000," explained Sydney. "And none of my siblings are upset over it or anything. They were very supportive. It was all good."
Sydney says she plans to use her winnings to buy real estate closer to her family.
The winning ticket was sold by Hitt the Road in Ammon. For selling the winning ticket, Hitt the Road gets a very merry $5,000 from the Idaho Lottery.