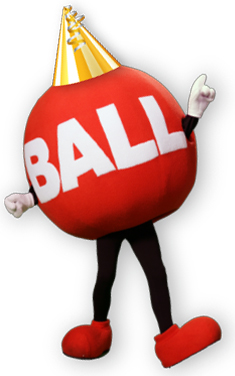 Guess who's having an anniversary this year? Powerball is celebrating its 30th Anniversary of fun and winning in Idaho.
Powerball is Idaho's favorite game for good reason: No other single game has brought as much excitement or made as many millionaires as Powerball has for Idaho since the first ticket was sold on April 19, 1992.
1992. A different century, a different time. The week that Powerball launched, the number one song in America was "Save the best for Last" by Vanessa Williams, "Basic Instinct" was tops at the movies, and George H. W. Bush was President of the United States.
That spring, the Idaho Lottery was joined by 13 other states plus the District of Columbia to create what would become one of the great cultural games in American history - Powerball.
On April 22, 1992, the new game held its first draw. The starting jackpot was $2,000,000; a prize you can win today simply by matching the first five numbers.
Powerball replaced Super Lotto*America and took the country by storm. The unique game was the first of its kind to feature a two-drum draw system, drawing five WHITE balls from one pool of numbers from 1 to 45 and one additional drum of RED Powerball numbers, selecting one number from 1 to 45.
It didn't take long for Powerball to establish a foothold in Idaho. In November 1992, Martha Gibbons became Idaho's first Powerball jackpot winner, claiming a prize worth $22.1 million.
Three years later, Pam Hiatt became one of America's largest Powerball jackpot winners when she won a jackpot worth $87.5 million. Her story became nationally known. She bought her winning ticket from the Jacksons store located on Orchard at 1-84 in Boise.
On Christmas Eve in 1996, the Robinsons and Seagraves won $48.2 million on a Powerball ticket purchased in Arco.
It would be nine more years before Idaho would set Powerball history. In February 2005, Eric Kyle, a cook at a diner in Boise won $18.5 million. Four jackpot runs later, on May 28, 2005, Brad Duke would win the sixth largest jackpot in American history at that time on a ticket he purchased from the same store Pam Hiatt did ten years before.
Jacksons #10, the Jacksons on Orchard and I-84, remains the only store in America to ever sell TWO jackpot winning Powerball tickets. For both winning tickets, Duke and Hiatt each selected their own numbers.
On January 13, 2016, Powerball set the record for the largest jackpot in the history of the world when it reached $1,586,400,000 – the world's first billion-dollar jackpot!
Since June 2005, when Brad Duke won, Idaho has had 73 winning Powerball tickets match the first five numbers but miss the Powerball winning number: barely missing the jackpot. Over its lifetime, Powerball has created 34 Gem State millionaires.
Powerball is the longest running draw game in Idaho and America, truly a multi-generational experience for Idahoans. You might say Powerball is as ingrained in Idaho culture as farming and ranching, hunting and fishing, or camping and backpacking. It's just a way of life.
Since 1992, Powerball has provided 356.3 million to Idaho's public schools and buildings.
Join us in kicking off the 30th Anniversary celebration for Powerball, Idaho's favorite game!