Accidently ending up in the right place at the right time is often the backdrop for winning the Idaho Lottery. On a Friday afternoon in early December, one Boise family was quite literally "over the moon" excited their patriarch happened into the Albertsons on Eagle Road in west Boise and purchased a single Sapphire 7s Idaho Lottery Scratch ticket.
"My wife called me and said we needed some cat food from the store," recalled Jerald Moon. "I picked that up and then bought a single Sapphire 7s Scratch ticket. I was lucky to be at the right place at the right time."
Moon's Sapphire 7s Scratch ticket turned out to the be game's first top prize winner of $200,000. Having just sold his business practice, Moon decided not to keep the money for himself and in the spirit of the holiday season, split the winnings among his family, including three college aged children, his mother-in-law, and his wife.
"This way I won't have to pay their college tuition bills for a while," he said with a smile.
The excited group brought their holiday joyousness to the Lottery offices and made the event a big family celebration.
The younger members of the Moon family said they were planning to use their winnings to support their college educations. Moon's wife and mother-in-law were too happy celebrating to elaborate on their plans other than Christmas was only a couple of weeks of away. The winners included Susan, Paige, Emily, and Jared Moon, plus Pearl Torrey.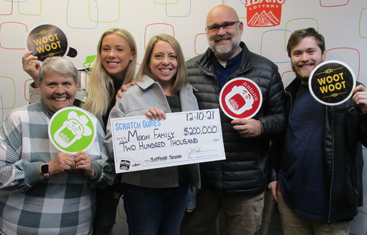 For selling the winning ticket, Albertsons receives a bonus for $20,000.