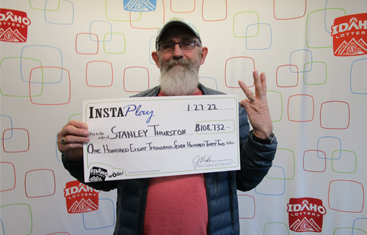 In the simplest terms as a pop-culture metaphor, Groundhog Day refers to re-living the same day over and over again. Often times, it is also used to relive the same nightmare day, again and again. But what if that scenario wasn't a nightmare, but instead one of great fortune? Literally.
For one Valley County resident, his "Groundhog Day" experience is winning big playing the Lottery. Stanley Thurston of Cascade is living proof that winning, at least for him, is like Groundhog Day.
In late January, the retired US Forest Service man from Valley County made his seventh trip to the Lottery office over the last ten years to collect a large prize, and his third Scratch game-style game top prize. Thurston claimed the jackpot prize of $108,732 on the InstaPlay Game Ultimate Diamond Jackpot. When he took his official picture, to commemorate his third top prize win, Thurston held up three fingers on his left hand.
"I'm not tired of coming here and collecting money," said Thurston on his visit to Lottery offices in Boise. "Since I won the last time, I've just been playing these Ultimate Diamond games. This time around, when I saw the winning number, I couldn't believe it. Again!"
All seven of his winning tickets have come from the same store in Cascade, Howdy's Gas & Grub. And news of this win spread quickly in the small mountain town.
"There are a lot of people who want to rub me for luck," said Thurston. "I try to tell them it doesn't work like that, but everyone in town knows I won again."
This is the third top prize win for Thurston since 2016 when he won $250,000 on the Scratch Game Cash Money Blowout. After he won a second top prize of $250,000 on the Scratch Game Tycoon Treasures in November 2018, Thurston decided it was time for him to retire from the US Forest Service.
For selling the winning ticket, Howdy's Gas & Grub in Cascade receives a bonus of $10,873.
Thurston said he's done well with his winnings and that this time they will help with retirement. He also said he'd continue playing and was already planning for an eighth visit back to Boise. Wouldn't it be amazing if one of those visits actually came on February 2?
Happy Groundhog Day, everyone, and here's wishing you winning luck and success!